Support the stream
Subscribing is a great way to support me directly as a full-time streamer and you receive some great benefits! Click the link below and for just $4.99 per month (cancel any time) you get all the benefits listed below. Don't forget, Amazon Prime users can subscribe to one channel for FREE every month.
Subscribe to Squirrel here.
Want to know how to subscribe click here.
Subscriber Benefits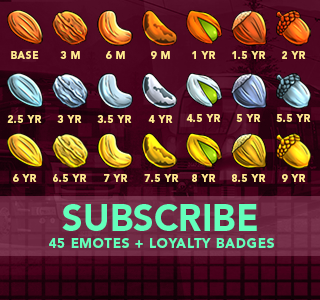 Use 45 unique emotes across all of twitch.
Do not see any adverts on the channel.
Squirrel loyalty badge icon in Twitch chat see below for image.
Take part in subscriber only events.
Access to the sub only chat commands.
Access to The Nut House Discord server.
Can chat during sub only mode.
My gratitude <3.
Donations and Bits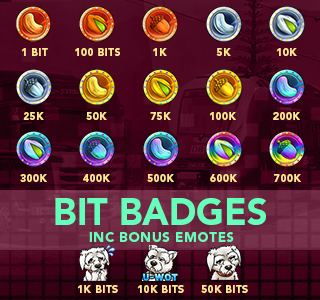 You can support the stream using PayPal or by using Bits(cheering), Donations are very much appreciated and help me stay full-time as a content creator. Minimum donation is $2 and 200 Bits.
To Donate with PayPal click here.
To Donate with bits follow this guide by clicking here.