Asus ROG Strix XG49VQ 49″ Curved Gaming FreeSync Monitor 144Hz Dual Full HD HDR Eye Care with DP HDMI
Main racing/driving/flying screen. Incredible horizontal viewing whilst simming and with a refresh of 144Hz all your games look silky smooth.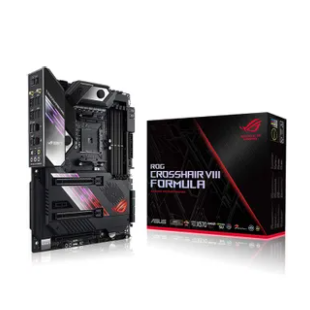 ASUS ROG Crosshair VIII Formula ATX Motherboard, AMD Socket AM4, Ryzen 3000, PCIe 4.0, M.2, DDR4
Features just about everything you will need from a motherboard plus it looks amazing in your case.
G.SKILL F4-3600C16Q-32GTZR 32 GB (8 GB x 4) Trident Z RGB DDR4 3600MHz Dual Channel Memory CL16-16-16-36 1.35v
Four of these will fully populate your board. Ryzen CPUs are very sensitive to memory timings. These CL16-16-16-36 RAM chips are on the sweetspot for Ryzen CPUs and look great too with RGB that can be controlled via ASUS AuraSync.
---
Samsung 860 EVO 4TB 2.5 Inch SATA III Internal SSD (MZ-76E4T0B/AM)
I've used Samsung SSDs for years and they've never let me down. Both EVO and PRO series are the best choices in my opinion. I have two of these drives. One is dedicated to Flight simming (scenery generation, OrbX, plus MSFS cache) and the other contains all my important data, documents, local video files, Dropbox and OneDrive etc.
Lian Li O11 Dynamic XL ROG Certified Mid Tower Gaming Case
Modular, gorgeous and winner of many awards.
Noctua NF-P12 redux-1300 PWM, High Performance Cooling Fan, 4-Pin, 1300 RPM (120mm, Grey)
Noctua make some of most quiet fans available. These low RPM fans are used on the radiators of the water cooling loop – nine in total, three on each radiator. This allows them to be run in a low RPM state. You could use this anywhere in a build but 1700 RPM ones are available too if you need more airflow and don't mind the noise.
---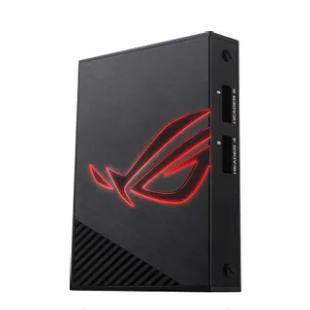 ASUS ROG AURA Terminal with Four-Port Addressable RGB Controller with ROG Halo and Aura Sync
ASUS ROG Claymore Cherry MX Red Mechanical Gaming Keyboard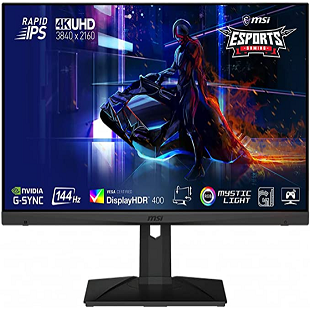 MSI Optix MAG281URF 4K IPS Gaming Monitor
Equipped with a 27.9″" 4K Ultra-High Definition (3840×2160) Rapid IPS panel, the Optix MAG281URF gaming monitor provides elite UHD resolution picture quality, a competitive 144Hz refresh rate (1ms GtG), and outstanding colour accuracy..
ASUS ROG Claymore Cherry MX Red Mechanical Gaming Keyboard
Available in various switches and layouts, I love the layout and feel of the Claymore. The numpad is available separately and can be detached from the keyboard when not in use and even switched from left to right side. Compact, versatile but not cheap.
---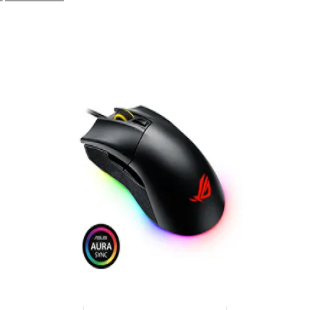 ASUS ROG Gladius II Origin Wired USB Optical Ergonomic FPS Gaming Mouse featuring Aura Sync RGB, 12000 DPI Optical, 50G Acceleration, 250 IPS sensors and swappable Omron switches
Just the right size for my big hands! The original Gladius was a great mouse but this adds RGB Aura Sync on top.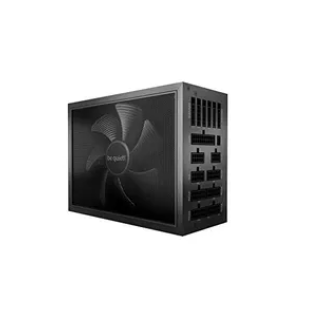 be quiet! Dark Power Pro 12 1200W, 80 PLUS Titanium efficiency, power supply, ATX, fully digital, modular, virtually inaudible Silent Wings fan,BN311
A high quality power supply from bequiet! with 80 PLUS Titanium efficiency, fully digital, modular and virtually inaudible Silent Wings fan. More than enough power for just about any system and built using the very best components.
Alphacool 12948 Eisblock XPX Aurora Edge – Plexi Black Digital RGB Water Cooling CPU – Water Blocks
Keeps that Ryzen monster under control and looks cool!
---
Alphacool Eisblock Aurora GPX-N RTX 3090/3080 ROG Strix mit Backplate – Acryl + Nickel
Great looking high performance 3090 cooling block
Alphacool Eisbecher D5 250mm Fluid Reservoir – Acetal
Clear fluid tank for D5 pumps
Alphacool Eisrohr 13mm (PMMA) Hard Tube Satin Plexi 80cm – 4pcs
Frosted tubing. Has to be cut and bent to fit.
---
Alphacool Eiszapfen PRO HardTube Fitting G1/4, 13mm OD, Deep Black, 6-Pack
Fittings for the tubing.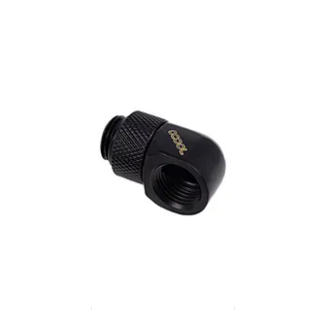 Alphacool 17248 Black Hardware Cooling Accessory Hardware Cooling Accessory (18 mm, 32 mm, 18 mm)
Right angle (90 degree) fittings. Consider also getting 45 degree and 10mm extension fittings.
Alphacool NexXxoS ST30 Full Copper 360mm Triple Fan Water Cooling Radiator V2 – Black
Big radiators for efficient cooling. Make sure you plan where the radiators will go and get smaller ones if necessary. Also, don't forget the fans! tubing.
---
AMD Ryzen 9 5950X 16 Core AM4 CPU/Processor Retail
Also consider a 5900X to save money. You may not need as many cores as I do, depending on what you use your PC for. Make sure you have good cooling – water is best. I use a custom loop water cooler, but you could use an All In One cooler.
ASUS ROG Strix GeForce RTX 3090 24GB GDDR6X Gaming Graphics Card with Axial-tech fans & central static pressure fan ROG-STRIX-RTX3090-24G-GAMING
A beast of a card. If you can get one. The 3090 is overkill for most gamers so consider the 3080. The ASUS ROG Strix cards are overclocked at the factory.
SAMSUNG 980 PRO 2TB PCIe NVMe Gen4 Internal Gaming SSD M.2 (MZ-V8P2T0B/AM)
I use two of these. One for the main boot drive, apps etc. The other has all my games. Ensures maximum loading speed of most things I fire up in Windows. Samsung make the best SSDs and NVMe drives in my opinion. The PRO model is great for critical data.
---